Roadmap to becoming an Impactful QA Engineer
9/8/2022
6:00 PM - 8:00 PM Pacific
Join us for the September meetup to hear from Julia Pottinger, a PNSQC 2022 keynote speaker, to get a taste of this year's conference. The topic is "Roadmap to becoming an Impactful QA Engineer."
QA Engineers are amazing people that are tasked with ensuring the quality of a product is of a certain standard. They do this through manual and automated tests. But how do you become a QA engineer and what skills do you need to be impactful in your role? Join Julia as she walks you through her journey to being an impactful QA Engineer and gives you a roadmap on how you too can become an impactful QA Engineer.
Takeaways
Role of a QA Engineer
Skills needed to be an impactful QA Engineer
Roadmap of skills and techniques needed
Julia Pottinger is the Head of Training and Development at QualityWorks and writer and public speaker.
She helps companies enhance the quality of their software through improved test coverage, faster time to market, increased process efficiency, and optimized use of resources.
This is a hybrid event, both online via Zoom and in person at the McMenamins Broadway Pub (1504 NE Broadway, Portland, OR 97232)
All are welcome to participate in this free meetup.
Please forward this event to members of your team who may be interested.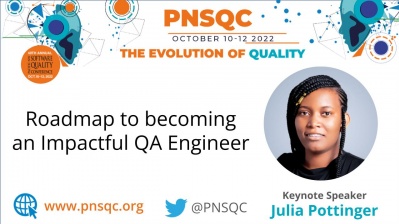 Julia Pottinger
Julia Pottinger
return to Pacific NW Software Quality Conference